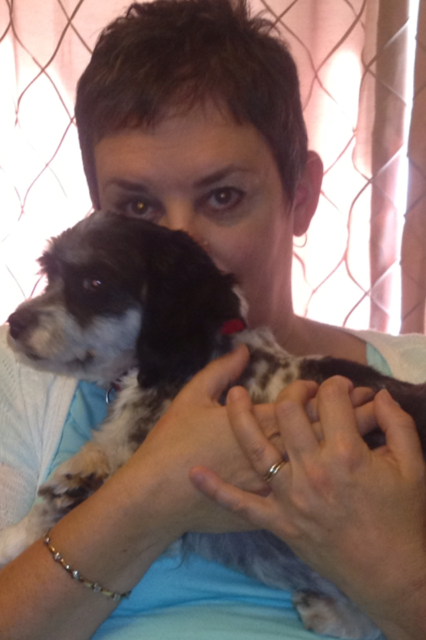 Frankie, a 4-month-old puppy, was found abandoned next to a dumpster in Fitchburg. The Fitchburg Animal Control Officer contacted PoundHounds for help funding the surgery Frankie needed to fix his leg. PoundHounds was happy to help and payed $2073.48 for Frankie's surgery.

Frankie recovered well, but it was soon discovered that he needed another surgery for a luxating patella. PoundHounds payed $2621.03 for this surgery -- we just couldn't let Frankie suffer more.  

Frankie has now recovered fully, after much TLC from his foster mother, Amy Egeland, the Fitchburg Shelter Manager.  A family had been interested in Frankie prior to his second surgery, and has now adopted Frankie.

The following is a message from Amy Egeland, the Shelter Manager at the Fitchburg Shelter:

"Thank you Pound Hounds for helping save Frankies life! After many months of recovery he has finally reached the point of adoption. April 17th I held his broken body in my arms. Now I have opened up my arms to release him to his forever Mom and Dad, plus 2 sisters.....8 month old long haired Shepherd and a 2 yr old Pittie mix.

Now he lives in the country, big safe yard, warm wood stove to nap the cold days away in front of.

It is a bitter sweet moment as Frankie has been with me for many months. I will miss him but what he taught me will be in my heart forever. To continue to love and trust even after being beaten.

Thank You!!!!"
The Story of Maverick (now Koosa) - Love heals

Found by a good samaritan in a poverty riddled neighborhood in Springfield and brought to the Thomas J. O'Connor Animal Control and Adoption Center, Koosa was severely matted, highly defensive and limping on a hind leg. He clearly had a very troubled past but with each day that passed, he began to trust us more and show a soft, endearing spirit. Hidden under all the layers of dirt, fur and worry was a beautiful, charming best friend in waiting.
Fast forward through grooming, vaccinations, veterinary exams, x-rays, orthopedic consultation and then surgery, Koosa was adopted by an amazing couple. As soon as they laid eyes on him, they knew he was the one. They fostered him for one week prior to the surgery and finalized his adoption once he was ready to go back home.
When we asked his family if we could share his story and their photos, his 'mom' said of course but asked us to be certain to tell everyone that Koosa rescued them as well as they have not felt this light hearted in years. She said life feels perfect now with him in their family.

Thanks to all of our wonderul donors for yet another happy ending.  We thank you from the bottom of our hearts for helping us continue to help dogs. We asked, you responded. Our donors rock! 
 
Cheech Found His Forever Home!
Cheech, also known as Chicarone, is a 4-year old Am Staff mix (or possibly purebred). This handsome boy lives up to the reputation of being intelligent and eager to please. Before he was taken by animal control, he used to wander loose in the neighborhood but he never bothered anyone. He is very food-oriented, but not food aggressive. He will, however, swallow a bone whole if he thinks you're going to take it away from him! He has been in the pound for a long time, but he is remarkably good-natured. He is reserved around new people, but mostly seems to ignore them. He keeps his kennel neat, and has never had an accident inside. When Maureen told him to "go pee," he happily trotted off to find a spot to lift his leg. Good Cheech!

Cheech is a dog with great potential, but he needed training.  Fortunately, Nancy Fantom, a well-known trainer in New Hampshire, was willing to take Cheech on and work with him.  After an extended stay with Nancy, a family decided to adopt Cheech.  He's now living the high life and going to work every day with his doggie dad, where he greets customers with his big smile.

Thanks Nancy for all your help and congratulations, Cheech!